About Wickham Hardwood Flooring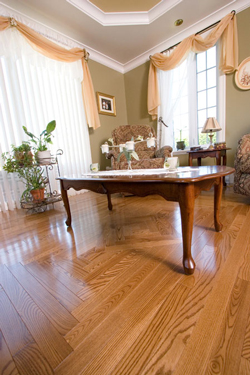 All our products carry the seal of excellence and our sales force is totally dedicated to provide excellent service to our customers in North-America, Europe and in Asia.
All our coating products are manufactured subject to Iso9002 rules and performance criteria. We apply 8 coats of U.V. cured Aluminum Oxide finish for a total of 3.2 mils thickness.
Abrasion result show 30% to 110% better than the competition using ASTM D 4060-95 technique. Adherence to the substrate is 100% compare to 95% for the competition's samples.
All our pre-finished products don't show any "ribbing" of the varnish or "orange peel effect" of the sealer.
New varnish OXYLUST+: a mix of 3 ultra efficient components

By the addition of aluminium oxide to the polymer in the varnish, Wickham Hardwood Flooring offers more hardness & durability and a wear resistance higher than the concurrence. This is the new varnish OXYLUST+.

Knowing that bacteria are a major cause of the odours and moisture problems, Wickham Hardwood Flooring protects all their products with the Ultra-Fresh* treatment. This is the best defence against bacteria and fungi built right into the product. A combination of Ultra-Fresh* with appropriate maintenance of your floor is a solution to a hygienic environment and the guarantee of longevity for your floor.

OXYLUST+ offers superior protection against premature wood discoloration and yellowing. An antioxidant formula is added to the finish and makes a protective screen against the residual UVA wavelengths that can discolour your floor. You will enjoy your floor with the appearance 'recently installed' for a very long time.

Unequalled transparency and a remarkable quality of OXYLUST+ coating come from the precedent process and is a judicious choice for an optimal protection.

HELLO